The Glenmore Horseshoe
Wilderness Therapy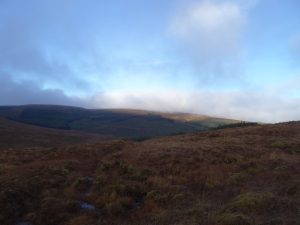 So after the Christmas and some busy time, catching up with family and eating too much. Some stress and madness, more for some than others we figured it'd be time for some escape and so we managed to put a few hours aside to go grab some wilderness therapy. Just to hike and reconnect with nature to get away from the computer and the phone for a few minutes seemed heaven sent. The weather was warm for mid winter. We drove to Glenmore  on the eastern flank of the Ox mountains, a truly stunning valley where the raptors soar, and a magical place to be on any given day. Parking at the yellow barrier we headed up the valley a little, following the river and the logging road to the bridge where we crossed, and still following the logging road over the fence to about G515:247 where we headed south toward our 1st summit of the day.
I know it's hard to imagine for some, but the number of times I've been up here over the years, and they've been countless, I never saw another soul other than the company I started out with. There's a lovely piece of bedrock sticking up looking just like an erratic rock which I like to use as a 1st checkpoint.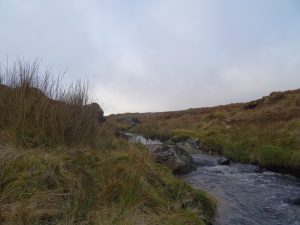 Good views from here toward south and east Sligo, and beyond on a clear day, before heading west following the contours of the gently rolling hills and into the network of streams and gullies. There's all sorts of creatures living along here and I can't really think of a much better place to spend some time and while away the day. There's lots of water in the river too after recent rainfall so we had to hike a fair bit upstream to where it narrowed in order to cross safely and without a dunking, but we found what we were looking for after a while. We started to head NW in toward the top of the valley, keeping some height as we knew lower down the rivers were in full flow and the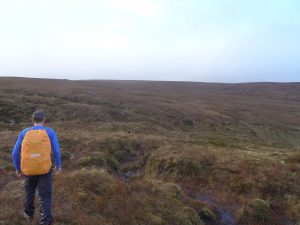 ground would be swamped. After crossing the river fairly high up on some convenient stepping stones, we decided on a break to lighten our bags of some of the food and drink we brought. This for some can be the best part of the day, depending on what you've packed. So Knockalongy was to be our next checkpoint and we'd to head N/NE, hand-railing the forestry boundary before a nice gradual incline and the going was good. Dusk was just upon us and the lighting and the colors could just leave you stuck for words, with the greens and browns from the otherworldly peat hags,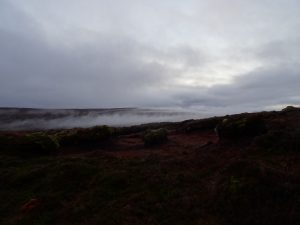 to the fiery reds and oranges struggling to make themselves known through the mist, just hugging the ground here and there. Finally our objective is in sight, the trig point which marks Knockalongy, the highest point in the ox mountain range and then were there. Just in time to grab a few snaps before full dark and the fun really begins. We take time to sign the geo cache book and surprise surprise, ours are the 1st names to go in it this year, a little time to take in where we are before the game of find the cars as Barry likes to call it begins. Get out our head torches and flip the battery around so we've power, time to go. It's all downhill from here and the best thing I find to do is follow land marks and features.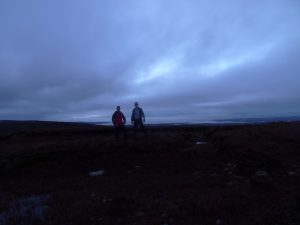 I've been here many times so had the advantage of being on home turf so to speak, but generally I like to do this and not make things more complicated than they need be, with bearings/timing/pacing, unless I really need to, say for instance if I'm looking for a really small but important feature. Too long standing around doing calculations and you or someone in your party is likely to start feeling cold at this stage. Found the stream that led to the bigger stream that lead to the fork in the river which was our next CP, but lost the moon that was above us which we were keeping at 2 o clock as a way of staying on our bearing, but it didn't matter.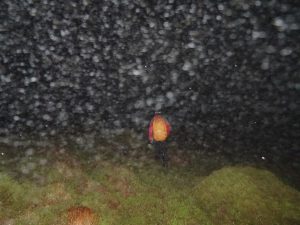 Found the tree line again and just had 1 more river crossing which was no bother, into the fire break which led back to the cars. 20 mins later, just savoring what remained of the hike, reflecting and planning our next jaunt out to test ourselves and we're back where we started, another snack and a cuppa before hitting the road just to ground ourselves and we're away, leaving no trace and none but the mountain would ever know we'd been there. What a great day.