Anne Foley Smith.
"Great guide on Ben Bulben climb yesterday. TY, Niall. Some photos from yesterday. Can you share your ones here? One more item

off my
#
BUCKETLIST
"
"
Really, really enjoyed the experience! Thanks for looking after us soooooo well, Niall!"
?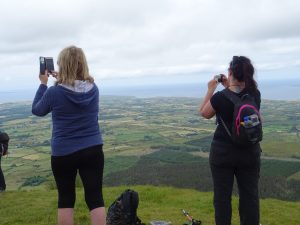 Thanks a million Niall English. We had a great time.
Sophie Price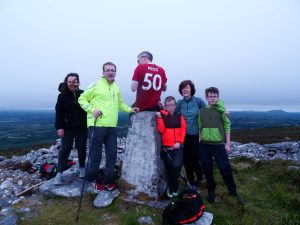 __________________________________________________
It was a great hike but very challenging towards the end. It was a good way of spending a sunny Saturday afternoon. I certainly would not have undertaken this mountain hike on my own, only for my mate Niall who is a very experienced mountaineer. Heres to many more hikes and mountain adventures in the future. Spectacular photos Niall.
Damien Kennedy.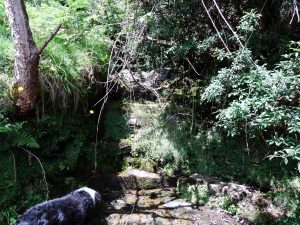 __________________________________________
I had never been up Benbulben before and was very excited when Niall offered to take me and a couple of friends up. I knew straight away that we would be in safe hands. We got lucky with the weather and all set of in good spirits and Niall was able to answer any questions that we had. As we started to climb upwards the view just kept getting more and more amazing and by the time we got to the top it was quiet a spectacular site to see. Unfortunately the weather broke as we were walking a long the top but spirits were not dampened as it was amazing to see the shower approaching us and before long it had passed and we all dried pretty quickly. We had a lovely picnic at the top with a great view to look at. On the way down there were a few slips and was a great laugh to see but Niall soon showed us the right way to decent a mountain and a particular way to walk which was very helpful. By the time we reached the car park we all were tired but had had a truly enjoyable time and great pictures and memories to look back on and are all looking very forward to our next hike.
 James Davey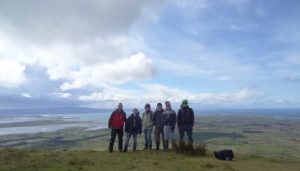 ---
It was the within the month of December that I followed along for a walk up Lugnaquilla. A brief playaround with a steep hill was no preparation for tracking up the 1st valley, scaling alongside the remains of washed down tree trunks & rocks from higher still. It was just myself & Niall, guiding me, taking this way that pitted us against nature. We got admirers from below on the path for our trouble, though, before reaching that top & looking upon the next valley to take us up. Saying I felt small was cheap talk; anyone would looking upon that expanse. But the solid lump of determination in my belly to get past it & the next valley, to reach that summit? It was a nourishing feeling.
Actually doing so, we stepped into the reaches of a cloud, the ground crunching in snow with our steps. There was no sky with us, & no blossoms in the soil. Whiteness everywhere, even in the wind, evading its cuts even if we couldn't. I was cold, but alive with scenic discovery. Here, upon the highest mountain of Leinster & its flat summit we had walked for several minutes, was the primordial notion of a half-formed world. An experience no camera can easily convey, a gift no city can come close to giving, except in fogged silence. Although we were on a schedule to get back before dark, the passing of time seemed inconsequential. It was, & still is, a trip I'll never forget.
Karl English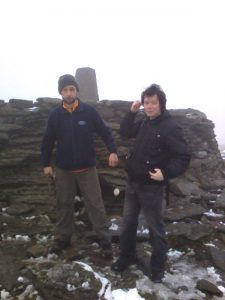 ---
Ciaran Smith
I had a great morning out climbing Benbulben and I would highly recommend this climb with Niall (from 1st Adventure Tours) to anyone living in/visiting the west of Ireland.
I was very grateful to have a friendly and knowledgeable guide with me who knew the mountain well and the safe routes up and down.
Niall and 1st Adventure Tours were recommended to me and I'm very happy to recommend them to others.