Benbulben, or Ben Bulben as it's sometimes spelled is one of the most iconic and instantly recognizable landmarks in Ireland. It's a timeless, magical landmark in Sligo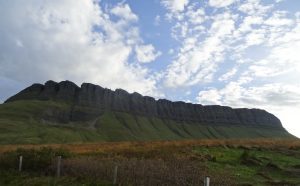 and it's been said Cu Chulainn, the hero of ancient Celtic mythology and his brothers in the Fianna, used to hunt wild boar on it's majestic flanks, and also where  Diarmuid and Grainne hung out while dodging the King who wanted his guts for garters. Guess that's what you get when you elope with the king's bride to be.

This is Also where the Noble six fled during the Irish civil war around 1916 era, after the ambush of an armored car and they were pursued up here and gunned down without a chance to surrender. Not that they would have probably, but there's a number of memorials around here in recognition of their bravery and sacrifice and you can still find some of the caves they used to hide out in and fight from.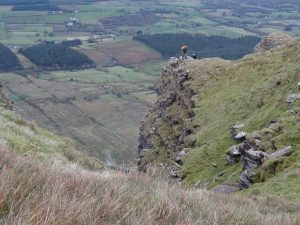 The late and very famous poet W B Yeates is also buried here under Ben Bulben and you can go visit his grave and have a coffee and a scone in the lovely cafe there too, which is a nice way to kill an hour or two if you don't feel like actually climbing the mountain.
You can see right down to Mayo in the south, east to Letrim and and north to Slieve League in Donegal. West to the mighty Atlantic.  Benbulben is 250,000,000 years old, give or take a few and it's limestone crags dominates the skyline for miles around and is home to lots of different species of flora and fauna. Some of which can be found nowhere else in Ireland.  You can still find fossilized coral up on it's heights too if you know where to look, as it used to be the ocean floor;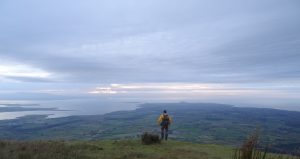 There's various routes up this monolith to suit all fitness levels and indeed it's a very manageable hike for just about everyone. Depending on the time you have available, and favorable weather conditions, generally 4 hours will see you up and down, it can be done a lot quicker and I once spent 12 hours getting to the top. Yes we took in a few sights on the way.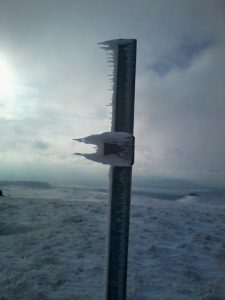 I was also up here with some friends in the ice and the snow, when the beast from the east did blow, and the weather was -18 C. Did we feel cold? not a bit of it. We were too busy having fun.
There are 1 or 2 access issues though from certain points and you should always try to find out from locals where's safe to park and do I have to cross private property or not to get there, as like 90% of all land in Ireland, all around it is privately owned, however there are some spots where it's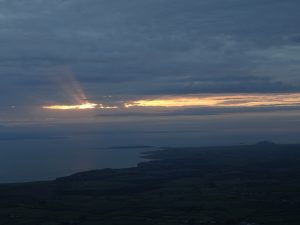 fine to park and use as your jump of point to get to the higher elevations. Please remember the leave no trace policies too if you do find yourself exploring this and any area, as it's a big part of ensuring a good relationship with the landowners and impacts on all of us and the next generations to come.