Ox Mountain Challenge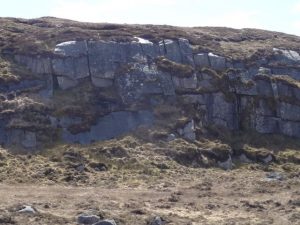 So on the first leg of our journey we get dropped off at Grid ref G309:094, an area known as Glendaduff. We hook up with the Foxford way which
runs through this area and start heading north, following the way-marked route. It's been a beautiful morning and the rain starts as soon as we leave the car so it's on with the rain gear. Up a nice gradual incline and our plan was to follow this up to a certain point where the track jinks left, but then make a bee line for Lough Talt. Thankfully the rain didn't last long and half hour or so out came sun again and stayed out for remainder of the day.
So we travelled onwards along this ancient landscape. Estimated at 900 and odd million years old compared to Benbulben at being 250 million. There'd be some great places along here through its hidden valleys for some bouldering and climbing practice and not too far a hike from the road.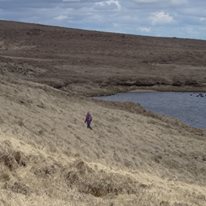 There's lots of scenic wee lakes along this section and any one of these would make a great picnic spot or to take a break, as they're no doubt part of the reason for the abundant selection and the variety of wildlife we saw. Mountain hare, Curlew, Grey Heron, Wheateater, (also known as the white arse) and deer. We took a break at Lough Hoe as it's near enough halfway mark for today. We liked the look of the gully descent to lough Talt, 400m NE from Hoe following the stream. Dunno why but I always gravitate towards gullies to explore. They often contain within their nooks and crannies hidden gems of flora/fauna or geologic marvels which you don't find out on the plateau. Or their shelter may have been used in the past by herders or warriors. And this gully didn't disappoint, although it was quite wet underfoot in parts  due to recent heavy rainfall, and not one I'd recommend in same conditions unless you're wearing wellies or don't mind getting feet wet. Plan this section of route after a dry spell.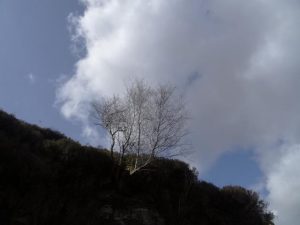 Found some ruins of farmsteads which had been inhabited till probably the late 1800s or early 1900s though you'd not know this by their dilapidated state. Here the families use to bring their cows in at night so as the animals body heat would help warm the house. They'd a basement like area especially for this. Smart, but smelly I'd imagine. Imagine trying to sleep with a cow/cows downstairs farting all night. So we now hit our first section of road walk as we cross the main road at Largan and are now on the Sligo Way and continue along the quiet backroads up as far as the first T junction where we turn right, heading toward Mass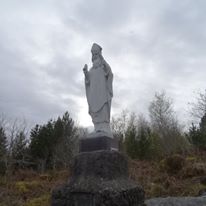 Rock where priests and possibly St Patrick according to some, use to gather a congregation together to say mass. Apparently when the brits heard of this they came out and tried to demolish the rock, but weren't able to and there the rock still stands today. This last part we heard about from a very friendly farmer we got chatting to as we passed his house. Round the corner from mass rock and 100m sees us home for the night where we'd cached our tents, sleeping bags and food for tomorrow at Ox Mountain Adventure Camp.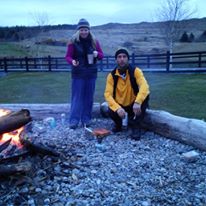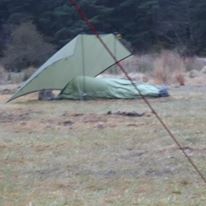 Tent pitched in minutes, great night spent around campfire relaxing, eating and catching up with third member of our team who'd joined us there and had a very different approach to accommodation in mind for himself. Try it without the tent, all night in the lashing rain. You'd have to see the pics to believe it, and yes it did rain for hours. Good food for thought, and a good way for light weight travel, although I do know that the equipment used for this is quite expensive. As I heard Iain Miller say one time, you might aim to carry the lightest bag but often this means you'll also have the lightest wallet as this comes at a cost. Although it shows what's possible with a little creativity. Mark wasn't planning on leaving anything behind cached for later pick up and carrying all out with him on tomorrows leg which was always gonna be the tougher of the two days.
And the weather was magnificent after the rain had stopped and it was like this for the first couple of hours, we departed at 9 and we just crossed the road and started to climb on up keeping to the left of Tullyvellia lakes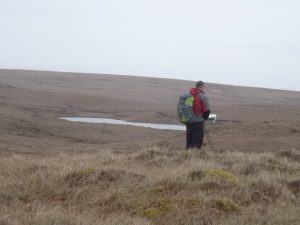 and on toward Cloonacool lakes, heading N/NE sticking to the higher ground as much as possible. Our next objective was Knockalongy, the highest point in the Ox Mountains and to get there we wanted to hit a saddle at G490:260 but we decided to avoid spot height 512 as this seemed like needless extra climbing and the weather had turned. I've heard this weather described as pea soup. Well what we found ourselves in was pea soup with shades on, and we weren't wearing shades. Still, time for a cuppa and we found a nice peat hag to shelter behind.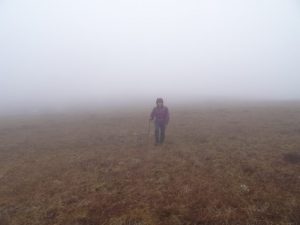 We never hit our saddle and somehow ended up well to the right and down into the re-entrant below it, and I couldn't figure out how we'd managed to lose so much height and had to climb back up. We were using two maps for this area. Sheet 24 and 25, osi series and it's often tricky working 2 maps in rotten weather, I think now we hadn't gained as much height in the first place and in those conditions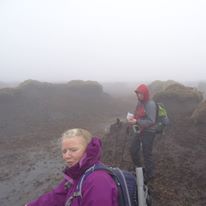 it'd be best to hit 512 as a marker. I'd never actually stringed these two maps together, out on the ground so to speak, and it'd would prove impossible to take a bearing to our saddle, as it's two maps and 1 is paper and in a case. But we'd cross the river, head for the forestry boundary and handrail this to our destination, but take heed, this is not the case and if you do follow the handrail, it'll not take you anywhere near Knockalongy.
Follow the contours of the hills as this boundary is a manmade landmark and the trees are not pla
nted anywhere near this height and it must be that Coillte just owns the land and hasn't planted on it, doubtful or it's an OSI mistake. Thankfully I knew this already and we didn't really put a foot wrong and found our CP in short order. The giant peat hags are part of what makes this such a challenge and we'd been in them for a while and had more to encounter. Up down around up down around, and just coming into the sea of slop, (area between Knockalongy and Knockachree) progress slow and again trying to keep on a bearing is a nightmare, looking for the cairn. Missed it but not by much according to GPS, which we hadn't been using but had only taken out once previously to verify location, and again here to do same. We were just to the left of it and from here we're just heading east near enough and descending toward spot height 326 in the forestry. Don't mind the map though as it would suggest you'd be bush whacking forever but this is not the case. You can handrail edge of forest to G524:286 and from here follow obvious shoulder down to the track it leads to. You do have to get into trees but only for maybe 60m or so and the change of terrain I thought was in fact quite pleasant.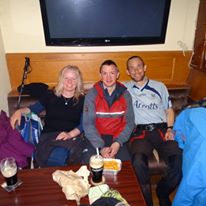 From the track to the road at the Ladies Brae and the challenge was to head on up over the next few hills, toward the big mast and from here hike home, although at this stage we're all a bit wrecked and some were talking taxi, however we decided on a compromise. We'd forget the next few hills and just take the road back to Coolaney, and this is what we ended up doing. And the pint of Guinness in the happy landing, where we very happily landed never tasted so good. So we'd hiked roughly 50k and climbed up and down 900 and something meters, and over some v rough terrain and in all weather conditions, who could ask for more. Total time on the move was 19 hours, although it could be done faster, although it wasn't a race. As a v smart guy once said it's better to go for a walk that lasts 45 mins than it is to go for a 45 min walk. It's about taking time to enjoy it, take snaps and ensure all in group are well and happy to continue, or to be able and willing to change route and plans if need arises. Definitely a tough challenge and looking forward to doing it again.